Religious Dispute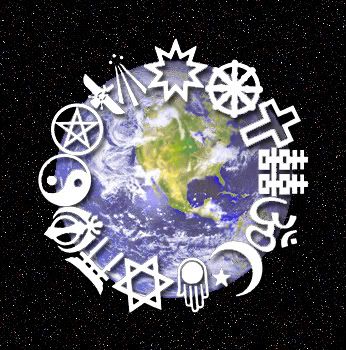 Throughout history, because of religion and in the name of god etc.... several wars and battle has been fought against each other due to differences in religion.
Achieving religious harmony and tolorence through the test of time and history seems too difficult to be achieve in several places across the world. Several has failed and only few successed.
Thumbs Up for Singapore
However amazingly during the 20th century in a most unexpected place known as Singapore, the success in achieving religious tolorence and harmony is outstanding and it can be a very good example for many to learn from.
Words is definately not enough to describe the achievments of this point which Singapore has achieved. Singapore has set themselves as an example for the whole world to learn from her. She was is a new country in the world's history and had independence in the year of 1965 and is barely 100 years old as of today in the year of 2012.
In the extreme western region of Singapore, Jurong area, lies Boon Lay !
In this place, you can get to see something you would not believe it to true and for your information this is not the only one which you can get to see in Singapore. There are more.
Church and Temple as Neighbours
For this posting I will share with you of this Christain Church built next to a Chinese Taoist Temple. They really both side by side of each other with nothing in the middle as anything particular to seperate the two neighbours.
Kindly take a look at the photos.
Did you notice that they so close to almost borderless ? It is close to say that they are sharing the same wall even.
These building are definately far more than 30 years old and over the years there has never been any actual clash, quarrels, disputes or even fights between the two. All these while they had both been in absoulute harmony with each other respecting , understanding and tolorence toward each others differences.
Even if to say visitors or perhaps even devotees dropped by from one place to another after they are done at one place it will not be of anything astonishing at all. Try imaginating this, after done at the temple , you cross over to the church. Perhaps even the reverse way ? Don't be astonished or suprise if it happen to be the case.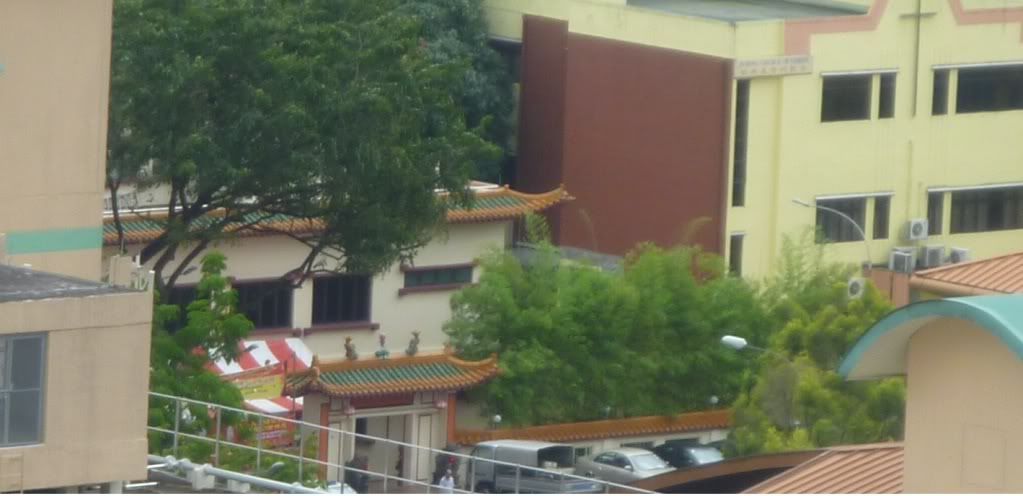 Jurong
Jurong itself consists of 11 residential precincts and 14 industrial districts as well 6 tourist attractrions.
The 11 residential precincts are:
1. Nanyang
2. Hong Kah
3. Yuhua
4. Bukit Batok
5. Teban Gardens
6. Tengah
7. Taman Jurong
8. Boon Lay
9. Gek Poh Ville
10. Bukit Gombak
11. Pioneer
The 14 industrial districts are:
1. Jurong Port
2. Jurong Pier
3. Jurong Hill
4. Lok Yang
5. Joo Koon
6. Gul
7. Benoi
8. Pioneer Sector
9. Toh Tuck
10. International Business Park
11. Kian Teck
12. Chin Bee
13. Penjuru
14. Jurong Island
6 tourist attractions in Jurong,
1. Singapore Science Centre
2. Snow City
3. Singapore Discovery Centre
4. Singapore Army Museum
5. Jurong Reptile Park
6. Jurong Bird Park
Boon Lay
Boon Lay is itself part of Jurong and the more official development of Jurong was likely in the 60s. This place was name after a very prominent business man who was one of the pionners to Singapore. This name was none other than Mr. Chew Boon Lay ( birth 1851 or 1852, China - death. 2 June, 1933, Singapore)
The place where Mr. Chew came from is what in present day known as Zhangzhou (漳州; Chang-chou) a prefecture-level city in southern Fujian province of China and the place where he was burried was in bukit brown cemetery.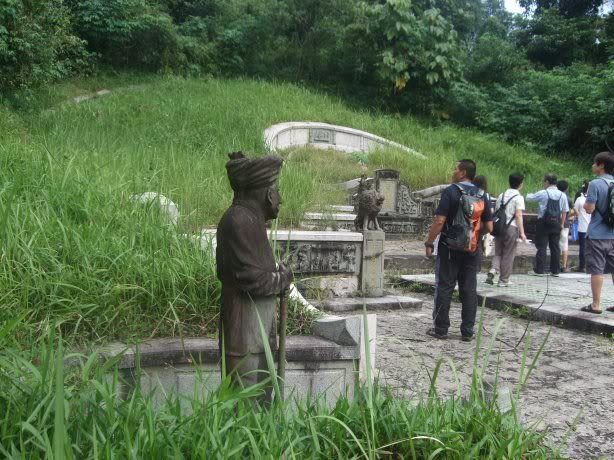 During his early days from the point where he came from China to Thailand and then to Singapore, he was originally confucianism when in China and was a devotee of Mazu the goddes of the sea ( Chinese Taosim ) when from Thailand to Singapore.He married a peranankan from Malacca and has 8 son and 4 daughters. During his elderly age, Mr. Chew converted himself into a Christian and remain so even till his death.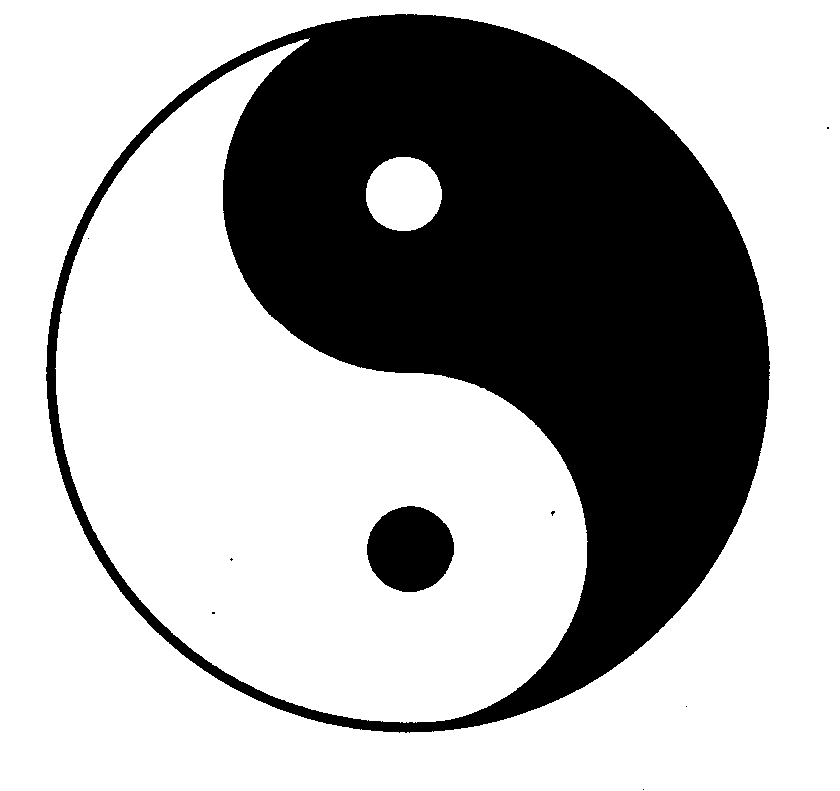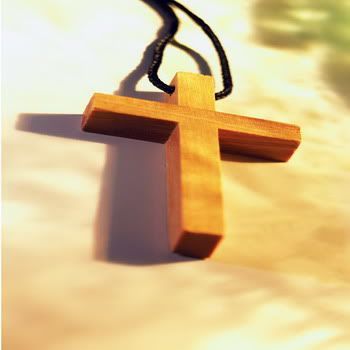 Site Origins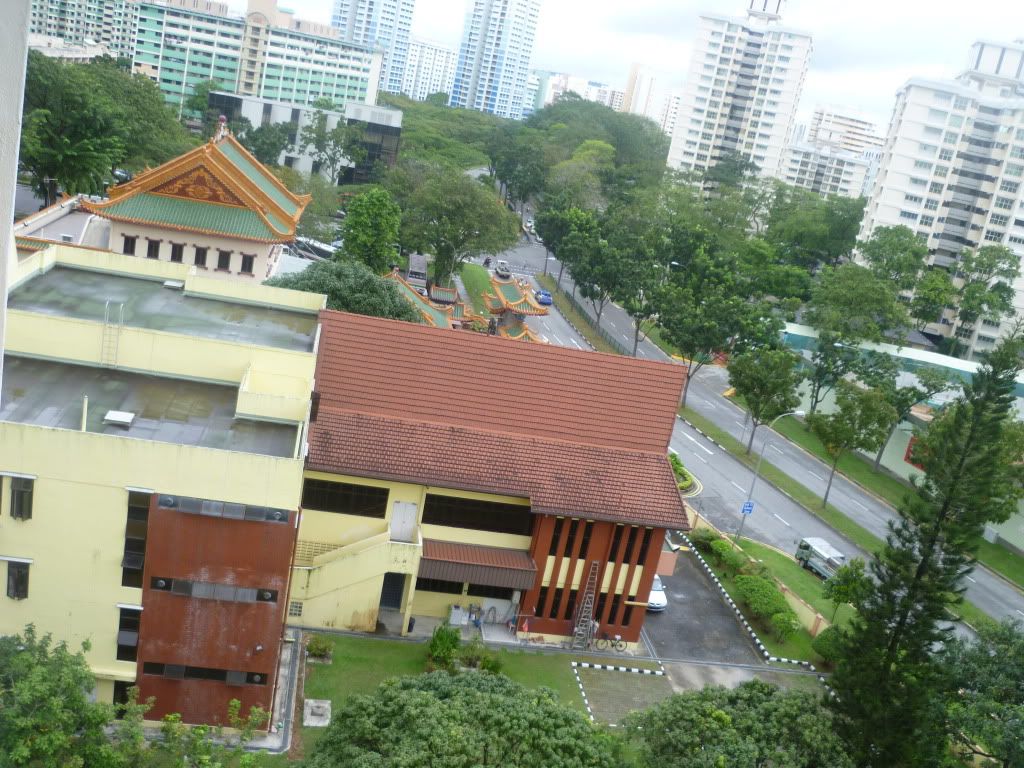 Based on rumours of the inside story, it was said that when developing this land known as boon lay today, it was the deliberate intentions of the Singapore Ruling Government at that point of time to have that specific location meant for 1 Chinese temple and 1 Christain Church, both side by side each other with nothing in between the two of them. After the bidders had bid the place. The construction of it began.
The temple existed first before the Church.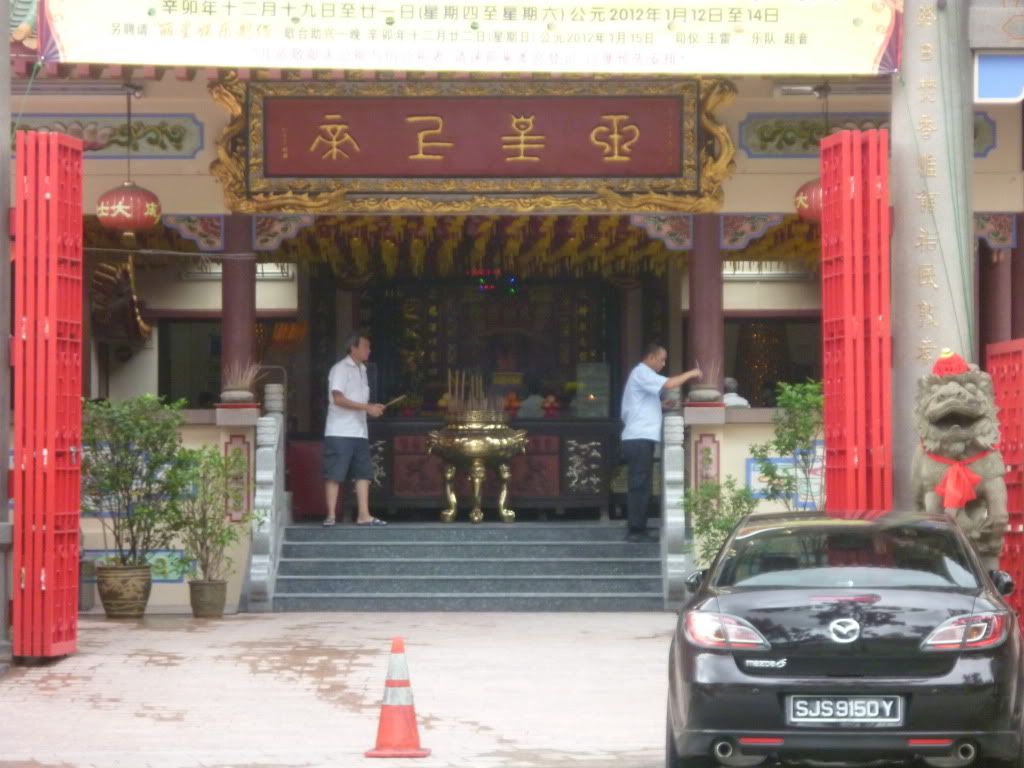 It makes Sense
In fact in some way you can also say the idea of a temple and church neigbouring each other makes some sense as well.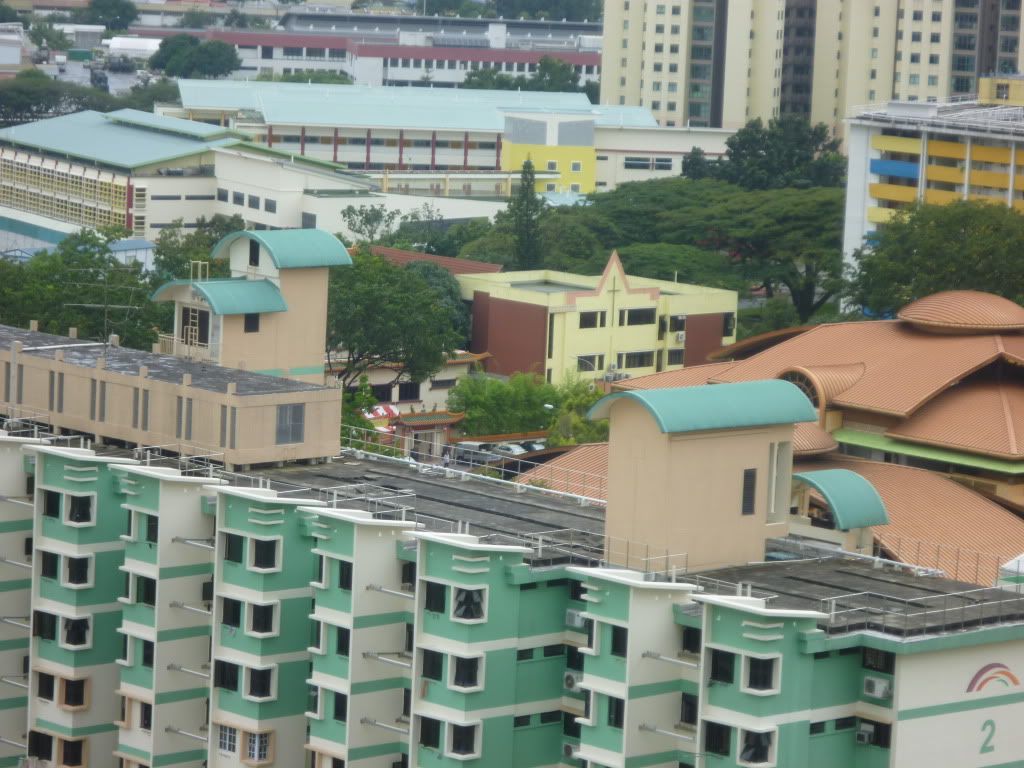 After all, Mr. Chew Boon Lay was once a temple devotee at the very beginning and at his late stage of life he became a christain. Hence a temple and church neighbouring each other can be something very iconic in this sense.
The Chinese temple is Tui San or the Tua Pek Kong Taoist temple and the christain church is known as the Jurong Church of Christ.
Jurong Church of Christ
This Church itself is also unique in the building features. Look at the photo again, this church is very old. It seems as if the wall will crack and fall easily and it has not been upgraded for a very long time. The outlook of this church looks poor and it is small. Futhermore this whole building is in complete yellow.
If you look at most of the churches in Singapore, churches in Singapore is very big and rich generally speaking. On top of top when comes to the design architecture and colours of a church it is definately very much unlike this church.
You may want to compare a few pictures.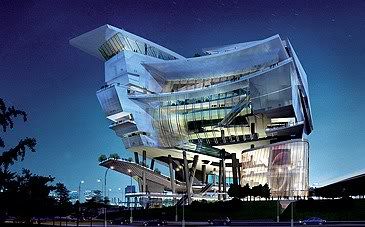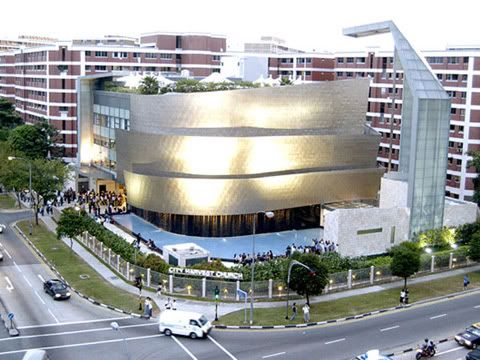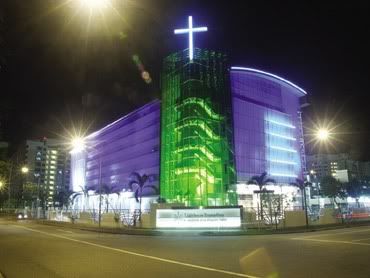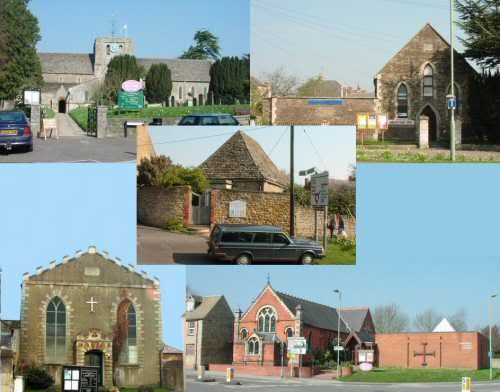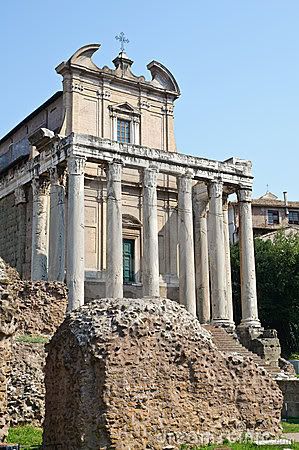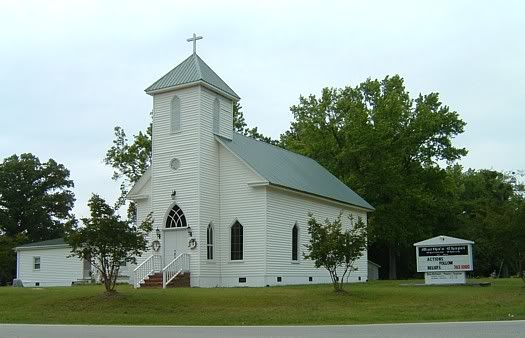 Chinese Temple
Next, this Chinese Temple most of time runs out of places for people to park their vehicle. Just like their neighbour they too have many devotees as well.
Come Down to Boon Lay
Do come down to Boon Lay when you have the time to take a look at them personally and understand them on your own for yourself.
I am very certain and positive that such sight and such neighbours is a very rare sight in other countries and to achieve the harmony and tolorence just like them, it is even harder for many to achieve.
This sight is indeed truly unique !